Algonquin students have a thing or two To sing about it this week. Last night was the opening show for the school's first major production since the pandemic began.
As previously posted, the ARHS musical Seussical will be on stage this week.
Seems to be a fun choice for students who came through NSBORO Elementary Schools. Traditionally, lower grades celebrate Dr. Seuss each year as part of their focus on reading skills.
The remaining shows are 7:00 p.m. and Saturday, plus 2:00 p.m. on Saturday. (Scroll down for information on tickets, plot, and Candygram fundraisers associated with the NSMA.)
My initial post, I didn't have details of the participating students. This week, ARHS Harbinger posted a behind-the-scenes look. Here are some of the highlights:
With advice diverted from the medical board, it was difficult for both the cast and crew members to follow regulations while getting everything done for the show. Under current guidelines, performers will not have to wear masks if they have been fully vaccinated and test negative for COVID within 48 hours of the show.

Based on Dr. Seuss' books, the musical is an eccentric and light-hearted pick for a live show comeback.

"We're finally back; I think that's really important for the ARHS drama," said Jared Lipkin, Senior Artistic Director. I think people can come and expect to have a good time and laugh. It is something that everyone needs." . . .

"It sure has been a long time since we've had something like this," said lead actress Sarah Bush. "I felt like I had to re-adapt to it, but once I did, it was really exciting and the most normal thing we've had in the arts department for a long time since we didn't even have parties last year."
Details in the story include some of the potential customers:
The Cat in the Hat – Big Juan Benatuel
Horton the Elephant – Senior Andrew Wallace
JoJo – Student of Leighton Jackson
Gertrude McFuz – Big Sarah Bush
Maisie La Bird – sophomore Gianna Davidson
Mr. Mayor – Senior Thomas Davis
You can find more, including views from Pit Orchestra and Stage Crew & Set Design in the full article here.
Here are more details about the play, tickets, and Candygrams from my initial post. . .
The Imaginary The story is a family-friendly tale that features on stage many of Dr. Seuss' most famous characters:
The Cat in the Hat tells the story of Horton, the elephant who discovers a speck of dust containing Whos, including Jojo, a child sent to military school because he thinks too much about "thinking." Horton faces a double challenge: not only must he protect the Whos from a world of naysayers and dangers, he must protect an abandoned egg, left in his care by irresponsible Maisie No Bird. Although Horton faces ridicule, danger, kidnapping, and trial, the daring Gertrude McFuz never loses faith in him. Ultimately, the forces of friendship, loyalty, family, and community are challenged and emerge victorious.
For the Algonquin play, the ticket is $10 per student and $15 per adult. It can be purchased here.
The Northborough-Southborough Musical Society is using the production as a fundraising opportunity.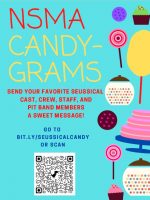 The audience/audience can buy candy for the performers and behind the scenes:
Candygrams for music artists, stage crew, and pit troupe

Seussical the Musical will be held at ARHS on November 18-19 at 7pm and November 20 at 2pm and 7pm. Please show your support to these participants by purchasing $5 Candigram which will be delivered to the student after the selected performance. Proceeds go to NSMA which supports scholarships and music education in the Northborough Southborough region. Questions? Contact nsmatreasurer@gmail.com