MBA Education: IIT Delhi has broken into the top five ranks of NIRF for Management, ahead of several IIMs. The head of the department explained how.
Seema Sharma, Head of Department of Management Studies, Indian Institute of Technology Delhi

New Delhi: Department of Management Studies, Indian Institute of Technology Delhi, broke into the top five ranks of management institutions under the National Institutional Ranking or NIRF 2021. Last year, it was ranked eighth. Seema Sharma, Head of Department, spoke to Careers 360 about the rise in the rating and upcoming initiatives.
Recommended: [Check your admission chances in IITs/ISM based on your JEE Advanced Rank] I start here- Predict JEE Advanced College]
Q: What initiatives have helped IIT Delhi, a technical institution, move up the ranks in management education?
a. We knew we had to work hard to improve our ranking. We have improved gender diversity. We had more female students. We worked on the syllabus part as well. Apart from the academic presentation – which is classroom teaching – we have done extensive exercises with companies so that our students will be useful to the business world from day one. The business world often complains that, in general for all secondary schools, students are not of much use unless they are well trained. So, we worked on it. We improved the teacher-student ratio as we hired more faculty. And of course search. You may notice that we are the highest in terms of search output. All these actions helped us raise our profile. And I think there is a standard based on the perception of the institute. There was an improvement in that, too.
Read also: IIT vs. IIM: How the IIT Outperform the IIMs in the NIRF Rankings
Q: What have you done to improve gender diversity?
a. Whenever we have the opportunity to speak to female candidates, we talk about all the benefits the candidate will receive from IIT, whether it be entrepreneurship or the ecosystem, or the curriculum, which is research-based and closely related to the industry. It's just that we put in some extra effort.
s. What is your experience with placements during Covid?
a. We've always had a 100 percent position. A lot of extra effort is required in this. The entire department worked together, and spoke to upcoming companies for placement. Initially, students were asked to join online. They were given a VPN number so they could access the corporate intranet and could start their work and as soon as they could they went offline.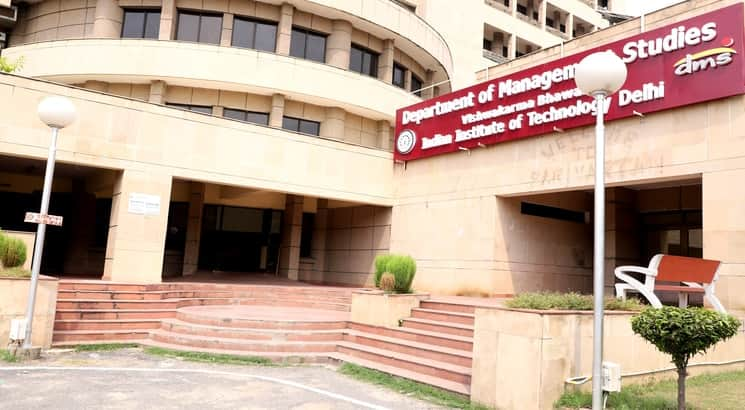 Department of Management Studies, IIT Delhi
Q: Are students exposed to actual global practices?
a. We have a Global Field Study (GFS) program through which we send our students to foreign countries. Communication with industries abroad gives them a good idea of ​​the international work culture and a good familiarity with the technologies used in other countries. GFS is now suspended due to the Corona case. As soon as normal
Life resumes, and we will again begin sending students.
Read also: How B schools became public policy training centers
Q: What are your plans for the future?
a. We have plans to start a separate online program or one-year program for working executives. Anytime we offer this program it will be to students from all over the world. It may be mixed or it may be online only, discussions are still going on.
What we are planning is that from next semester we will stop working. The number of cases in Delhi has been low for a while, so we will be going offline. For us, the usual mode is offline and we want to go back to it. We do not have a co-educational method yet.
---
Follow us to get the latest education news about colleges and universities, admissions, courses, exams, schools, research, education policies, national politics and more..
To get in touch, email us at news@careers360.com.
.